Well, it's time to start working on the next winter collection!
"We need to align with the company's mission on sustainability. We must focus on sourcing sustainable materials as well as the production process that creates less negative impact to the environment."
"Two conditions we can't overlook, quality and price."
"Where can we find all these in one?!"
These are words or thoughts that's always happening, right? And it is true that it is not easy to get all what you want without compromising on something else. But it does not mean there is no such thing available on this planet. Let's have a look and we believe this article is worth for your time to read until the end.
As you know, acrylic fibre is widely used in winter wear because of its unique properties like keep warm close to wool, and more. We will go through that later because sustainability is the most concerning issue in fashion in the past years. Yes! Now we have 2 sustainable acrylic fibres, Regel™ and Radianza™ available for your options in the upcoming winter range.
Regel™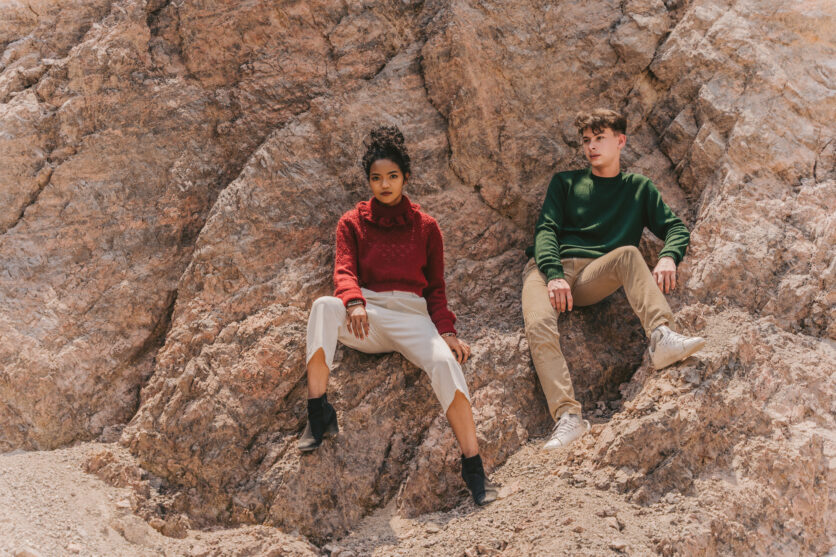 Regel™ is literally recycled acrylic with chemical recycling from textile and fashion waste, not mechanical recycling or shredding like others in the market, which is not the ideal way as there are restrictions on content, quality, and dyeing in required colours. Regel™ contains 50% recycled content that can be increased in the future whilst still maintaining qualities same as virgin acrylic fibre. Additional from that, Regel™ is already GRS certified.
Radianza™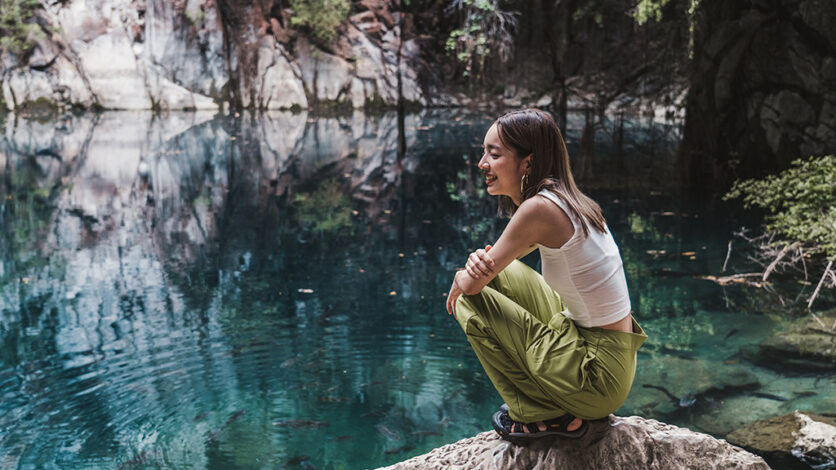 In garment production, the dyeing part is the most toxic one, either dyeing yarns or fabrics, because a lot of natural resources are required as well as chemicals are used. Moreover, it creates pollution to the environment like discharge of unused dyes etc. Radianza™ is basically a ready-to-use coloured fibre produced by "gel-dyeing technology", which is the key differentiator to make this fibre sustainable. Radianza™ consumes much less natural resources and creates a lot less pollution across the value chain, from cradle-to-grave. For example, you can save up to 30 litres of water by producing one sweater by using Radianza™ fibre. Curious about what is the gel-dyeing process? Let's watch our documentary, and below is the information, how much you save the environment by using Radianza™.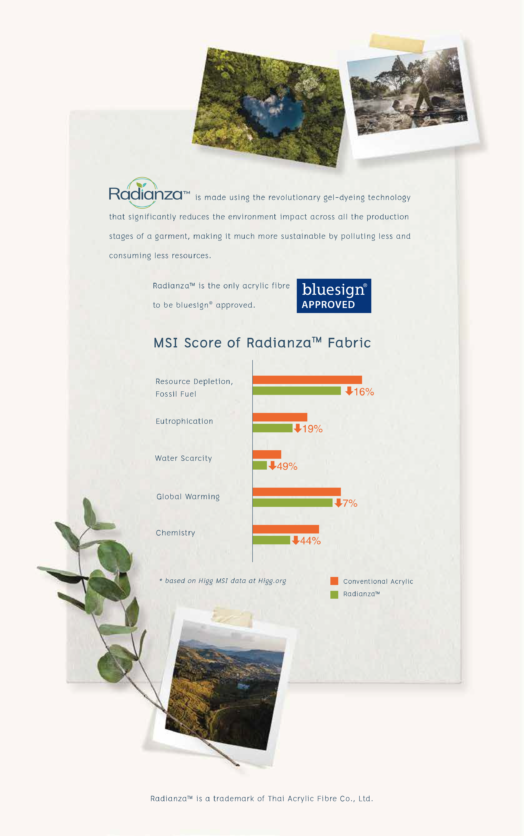 Now imagine when customers walk into your store and look for clothes to wear in winter, what do they need? To keep them warm? Of course! What else? Nice design, easy care, etc. Here is the list of unique properties that you can find from acrylic fibre, which cannot replace by others which can be the selling points.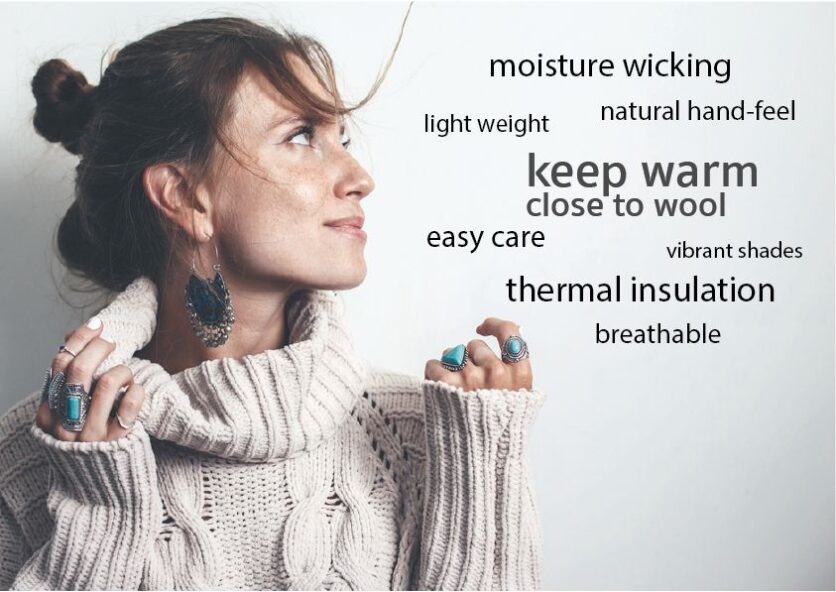 Both wool and acrylic fibre have good thermal insulation that slows down the heat transfer from our own body to outside. That is the reason why clothes made from acrylic fibre can keep the body warm similar to wool. Moreover, it is light weight, gives brighter shades, and needs less care than wool.
What about polyester compare to acrylic fibre? Since both are synthetics, so they are lightweight, good moisture wicking, and give vibrant shades. However, acrylic fibre is better in thermal insulation and gives the hand-feel and look like natural fibre.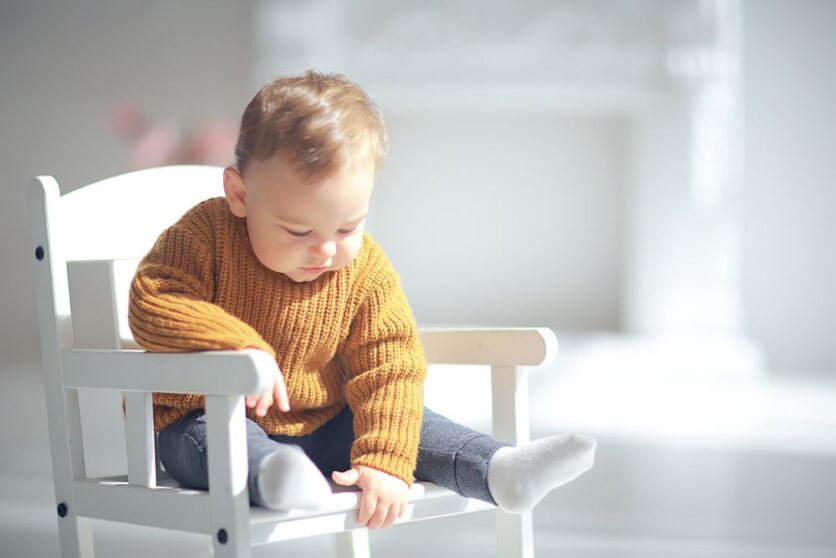 Now coming to the most common material everyone always think of – cotton. Garments made from cotton are comfortable to wear because of its hand-feel and breathability. However, because fabrics with cotton are difficult to be dyed in vibrant shades, they are generally dull in look. The most important fact is that, instead of wicking moisture away, cotton absorbs liquid, which means you will be freaking cold wearing cotton in winters inside the jacket, because it absorbs sweat and the cloth will be wet. By the way, imagine when the babies wear cotton clothes and if they sweat during the day or night.
Price Positioning
"Acrylic fibre is a bad fibre because it's synthetic and cheap."
This is one of many misinformation about acrylic fibre in the market. The truth is, acrylic fibre is not cheap. It is actually generally more expensive than polyester and even cotton. But of course, it is cheaper than wool as acrylic fibre was first invented to be an alternative wool. Therefore, if you are looking for a material with properties close to wool in competitive price, acrylic fibre is the best option. Or if you are currently using polyester, but planning to improve in quality and gaining more value, then go for acrylic.
All of us know that every recycled material is not cheap regarding its production process, that is also applied to Regel™ fibre. However, it is still competitive price compare to wool.
For Radianza™, the correct way to compare the price of this gel-dyed fibre with others is to compare the price of the yarns – made with Radianza™ without the need to dyeing and the one after yarn dyeing. Cost of dyes are increasing and there is an additional cone-to-hank and hank-to-cone process, so using Radianza™ would be a good option and can signficant economic value.
Then, should you go for Regel™ or Radianza™? It depends on your concept and specific needs. If you prefer raw white yarn with recycled concept, and price is not the most concerning factor in purchasing, Regel™ is definitely your option. But if you are looking for a material with good colour fastness and competitive price, Radianza™ can be one of your top choices.
If you are interested for samplings, development and collaboration programme, please feel free to write email to us at marketing.taf@adityabirla.com
For more information, visit
 or follow us on LinkedIn "Birlacril™ from Thai Acrylic Fibre Co."